Greenhouse Production
Greenhouses, like other facilities for indoor crop production, provide protection from adverse outdoor environments and offer stable and repeatable crop production without the use of herbicides and pesticides. Greenhouses can have various structural materials, shapes, and glazing materials for commercial scale greenhouses. Commercial structures are commonly made from aluminum extrusions and are glazed with polycarbonate or glass.
One of the largest benefits of greenhouses is that they can be much simpler to build and operate than vertical indoor farms. Greenhouses provide high light transmission where the desired internal lighting levels can be provided by the sun for most of the year in lieu of supplemental (artificial) lighting. During periods where the duration of sunlight is insufficient, artificial lighting supplements the grow operation. Light pollution from greenhouses is something that must be considered, and some municipalities have prescribed measures that must be taken to mitigate light pollution.
Greenhouse production of fruiting plants, greens, and herbs are commonly single-layer crops that require more gross square feet for considering a site to be developed. For this reason, the feasibility of large-scale production greenhouses that are several acres is limited in congested cities. In congested cities some developers and building owners are starting to add smaller scale greenhouses as lean-tos or on top of existing building roofs and parking garages. Other site selection criteria that needs to be considered when siting a greenhouse include exterior climate, availability of utilities, local labor for operating the facility, and the amount of natural lighting.
Grow operations internal to a greenhouse can be provided in the simplest forms where all potting, planting, irrigation, and harvesting is completed through manual means. In fact, some commercial flower greenhouses utilize floor mounted pots. Other greenhouse operations are fully automated where from seed to harvest there is no manual operator contact with the operation.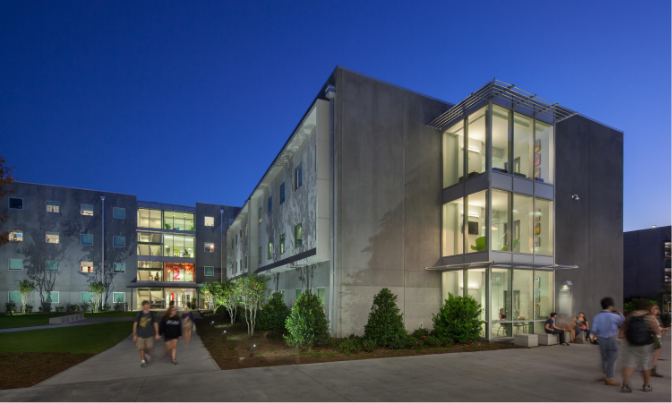 Experience the Design and Build Difference
Let NDBS provide our services for you in the design and installation. If you are ready to get started on your construction project, contact us today.